How Does It Work?
On May 28th, the White House and OMB released the long-awaited President's Budget for FY 2022 requesting $6 trillion in total mandatory and discretionary spending. The discretionary funding component, totaling $1.5 trillion, represents an 8% increase over regular FY 2021 spending levels. This collection of documents contains the budget message of the President and represents the Administration's priorities and analytical perspectives on specified subject areas. In a "typical" year, the President would give Congress the Administration's budget proposal for the next fiscal year by the first Monday in February. However, with the transition of power after a Presidential election and the ongoing COVID-19 emergency, this year's budget was significantly delayed.
So what's next? Since budget authority rests with Congress rather than the President, Congress will now draft budget resolutions to create a framework and set overall spending levels. A conference committee of House and Senate members negotiates a final version that each chamber authorizes. Next, the appropriations committees divide the discretionary portion of the budget resolution among 12 subcommittees (each who oversee a different group of agencies) and then draft appropriation bills for funding agencies. Then the House and Senate each vote on their bills, a conference committee merges the two bills together, and both chambers vote on the same version of each bill. Finally, if it's approved, it goes to the President. Pretty straightforward, right? (Does everybody remember "Schoolhouse Rock?")
The tricky part is getting both chambers and the President to agree on a compromise spending package, which is particularly challenging given the hyper-partisanship in Congress. If any appropriations bill is not signed by September 30th, the Government will not have a budget for FY 2022, which starts on October 1st. Without an enacted budget in place, Congress must pass a continuing resolution to fund the government temporarily at prior year levels or risk a shut-down of services. Note, Congress can also pass an Omnibus bill that combines some (but not all) of the 12 separate appropriation bills that can be signed into law (while the remaining bills are worked out).
What's Being Hashed Out?
Congress is grappling with hammering out the new spending proposed under the budget request, reflecting major proposals outlined under the $2.3 trillion American Jobs Plan and the $1.8 trillion American Families Plan. Some of these key initiatives include an overhaul of U.S. infrastructure, investing in education, and improving the social safety net. Additionally, specific focus areas include improving public health infrastructure, improving economic equity, and addressing climate change. As a result, multiple Federal agencies are seeing discretionary budget requests that are double digit percentage increases over FY 2021 spending levels. For example, this includes significant bumps for the Environmental Protection Agency, Department of Education, Department of Commerce, and Health and Human Services.
What's at stake? Here are the budget requests for cabinet departments and major agencies: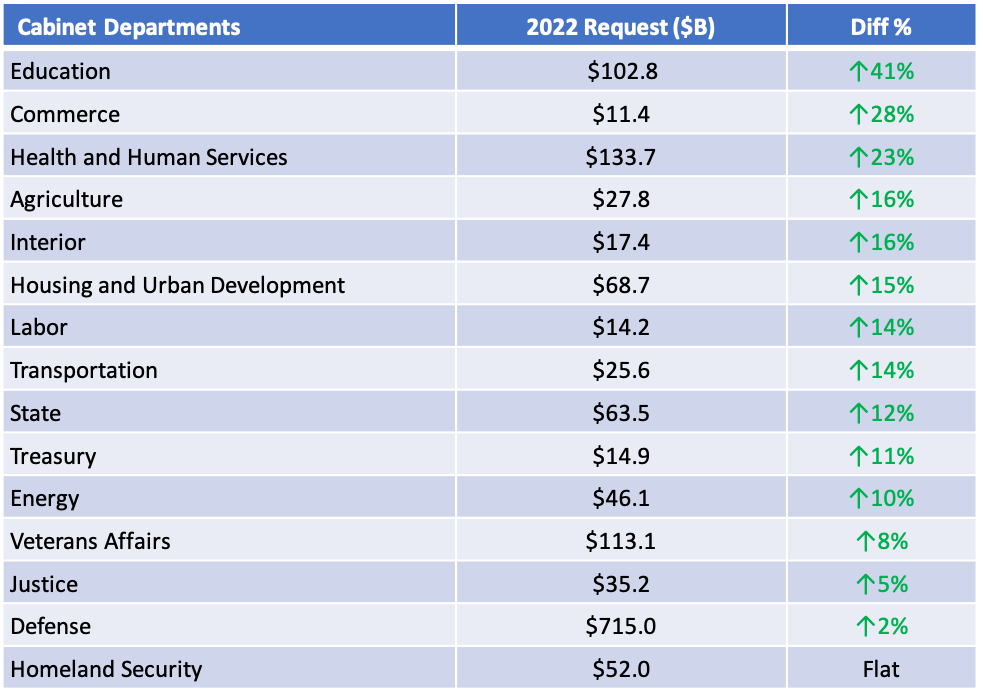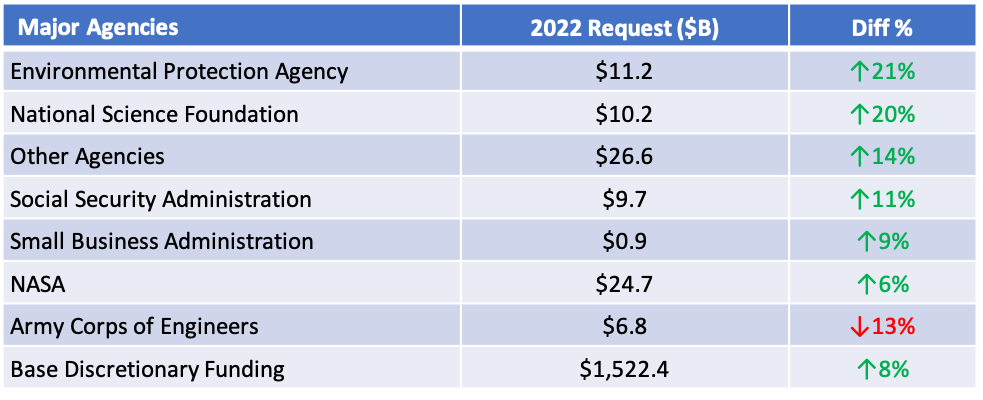 What's the Latest Update?
Overall, Congress is working with a discretionary request that proposes $769 billion in non-defense discretionary funding in FY 2022 (16% increase over FY 2021) and $753 billion for national defense programs (2% increase over FY 2021). Drafting the spending legislation is now divvied up and being worked over the next two months. Here is the latest status on the Appropriations Acts winding their way through Congress: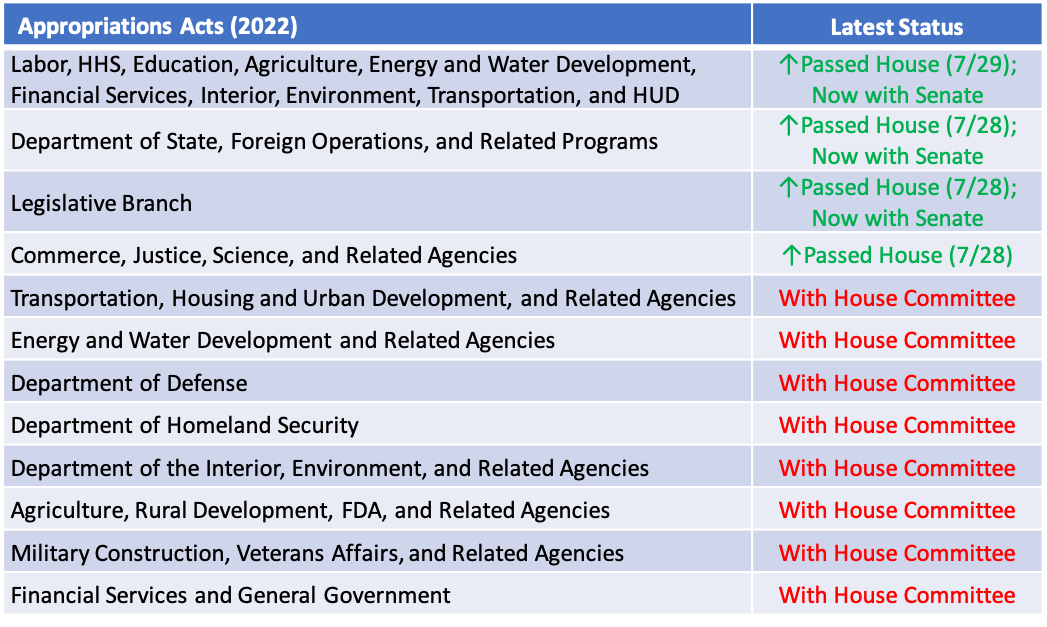 What's Next?
With recent history as a guide, we anticipate the wrangling between the House and the Senate will continue through the end of FY 2021 (September 30th). Both chambers have been focused on the $1.2 trillion bipartisan Infrastructure Investment and Jobs Act, which passed the Senate on Tuesday. On Wednesday, Senate Democrats also approved an outline of a $3.5 trillion budget framework, focused on priorities defined in the Administration's American Families Plan. A legislative process known as "budget reconciliation" will be used to advance the bill, meaning only a simple majority is necessary to pass it and get it signed into law (targeted by end of the year). The House will take up both measures for passage after their August recess.
In conclusion, we're not anticipating significant legislative action on many of the appropriation bills before FY 2021 ends, likely leading to continuing resolutions to keep the Government operating on October 1st. While we are seeing positive momentum for some of the agency appropriation bills making their way to the Senate, we recommend you continue to monitor legislative activity via Congress.Gov (www.congress.gov) for your impacted agencies.