This post was updated on December 6, 2021 to provide the latest context on the hectic congressional situation, including appropriations, debt ceiling, BBB Act, and the 2022 NDAA.
How does it work?
In May, the White House and OMB released the long-awaited President's Budget for FY 2022 requesting $6 trillion in total mandatory and discretionary spending. The discretionary funding component, totaling $1.5 trillion, represents an 8% increase over regular FY 2021 spending levels. This collection of documents contains the budget message of the President and represents the Administration's priorities and analytical perspectives on specified subject areas. In a "typical" year, the President would give Congress the Administration's budget proposal for the next fiscal year by the first Monday in February. However, with the transition of power after a Presidential election and the ongoing COVID-19 emergency, this year's budget was significantly delayed.
So what's going on now? Since budget authority rests with Congress rather than the President, Congress has drafted budget resolutions to create a framework and set overall spending levels. A conference committee of House and Senate members negotiated a final version that each chamber authorized. Next, the appropriations committees divided the discretionary portion of the budget resolution among 12 subcommittees (each who oversee a different group of agencies) and then drafted appropriation bills for funding agencies. The House and Senate are still required to each vote on their bills, then a conference committee will merge the two bills together, and both chambers will vote on the same version of each bill. Finally, if it's approved, it will go to the President.
The tricky part continues to be getting both chambers and the President to agree on a compromise spending package, which is particularly challenging given the hyper-partisanship in Congress. As all twelve (12) of the appropriations bills were not signed by September 30th, the Government remains without finalized appropriations for FY 2022, which started on October 1st. Without an enacted budget in place, Congress was required to pass a continuing resolution to fund the government temporarily at prior year levels. Note, Congress retains the capability to also pass an Omnibus bill that combines some (but not all) of the 12 separate appropriation bills that can be signed into law (while the remaining bills are worked out).
What's being hashed out?
Congress is still grappling with hammering out the new spending proposed under the budget request, reflecting major proposals outlined under the $2.3 trillion American Jobs Plan and the $1.8 trillion American Families Plan. Some of these key initiatives include an overhaul of U.S. infrastructure, investing in education, and improving the social safety net. Additionally, specific focus areas include improving public health infrastructure, improving economic equity, and addressing climate change. As a result, multiple Federal agencies are seeing discretionary budget requests that are double digit percentage increases over FY 2021 spending levels. For example, this includes significant bumps for the Environmental Protection Agency, Department of Education, Department of Commerce, and Health and Human Services.
What's at stake? Here are the budget requests for cabinet departments and major agencies: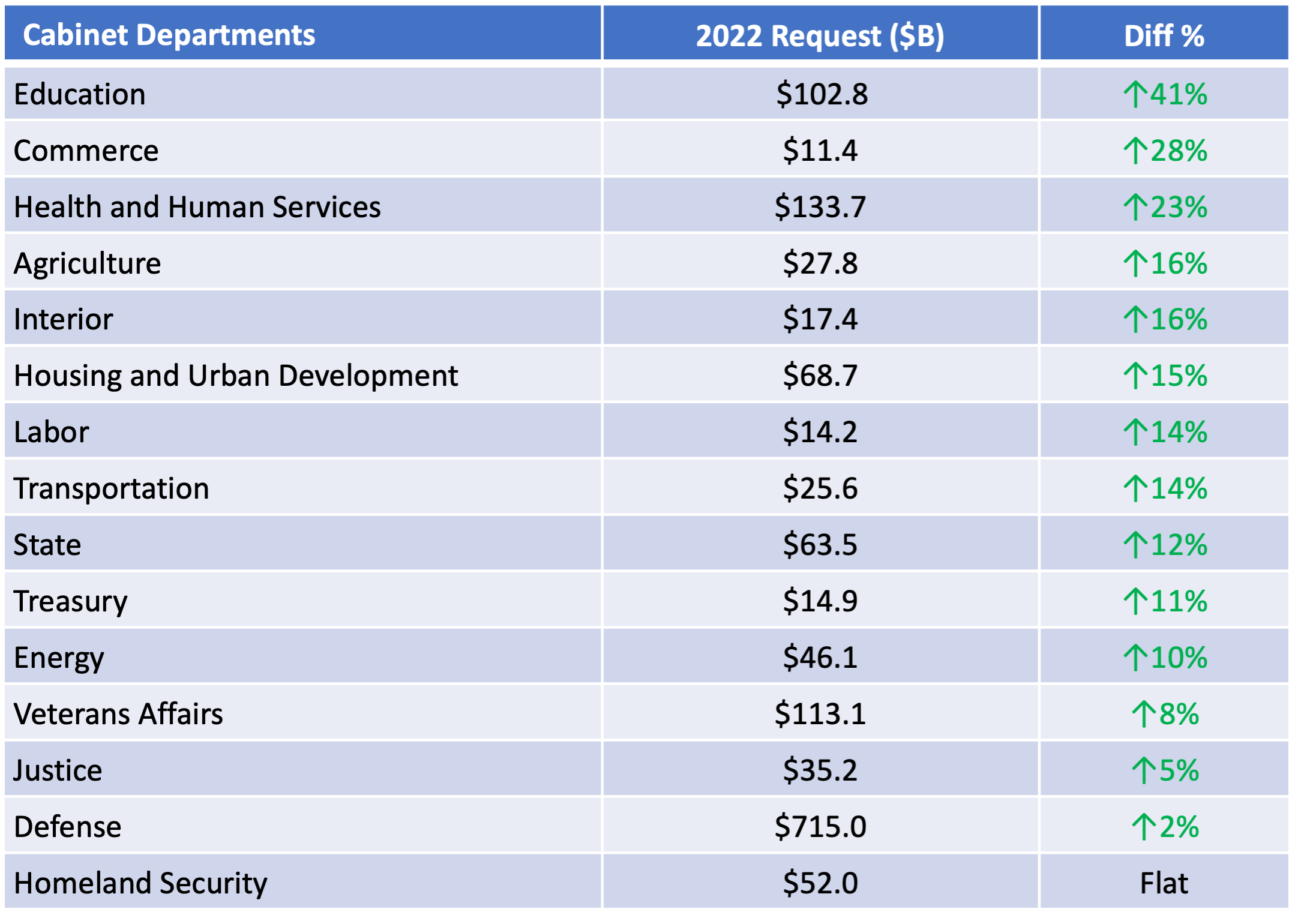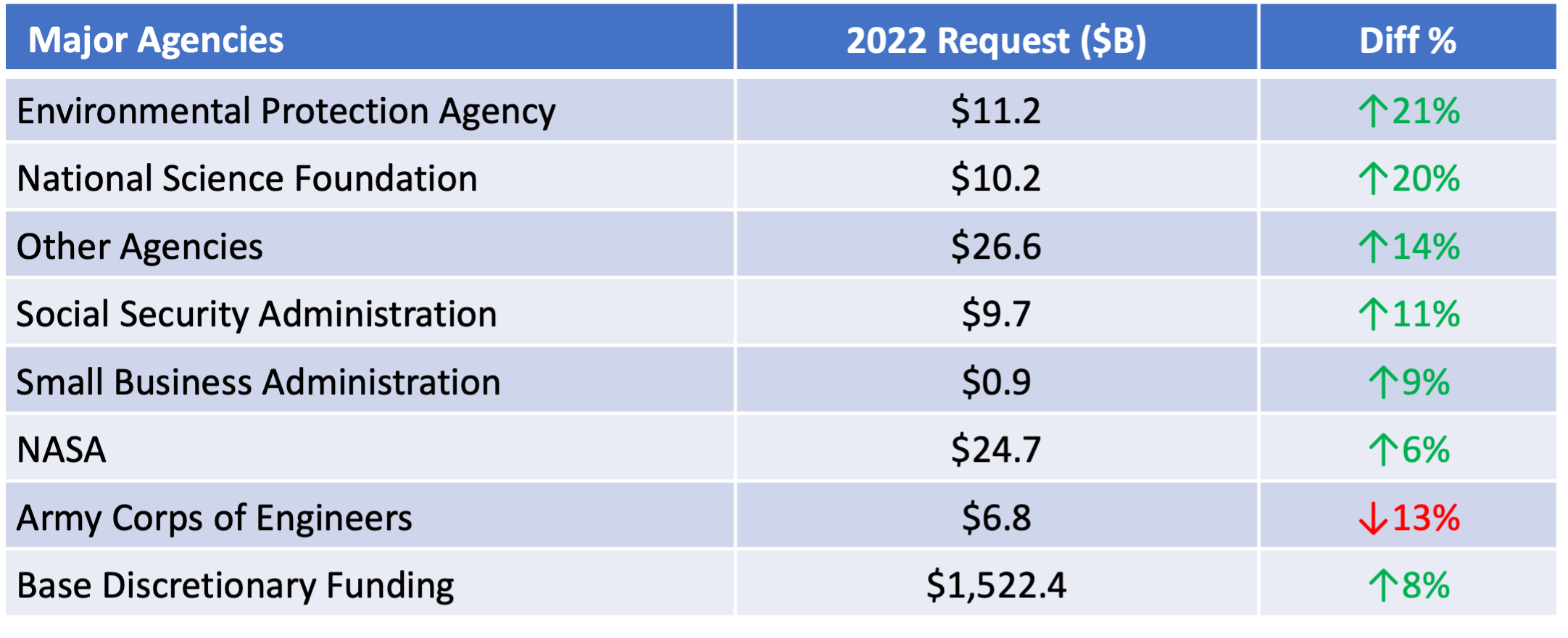 What's the latest appropriations status?
Overall, Congress is working with a discretionary request that proposes $769 billion in non-defense discretionary funding in FY 2022 (16% increase over FY 2021) and $753 billion for national defense programs (2% increase over FY 2021). Drafting the spending legislation is now divvied up and continuing to be worked over the next two months. Here is the latest status on the Appropriations Acts and their long winding journey through Congress: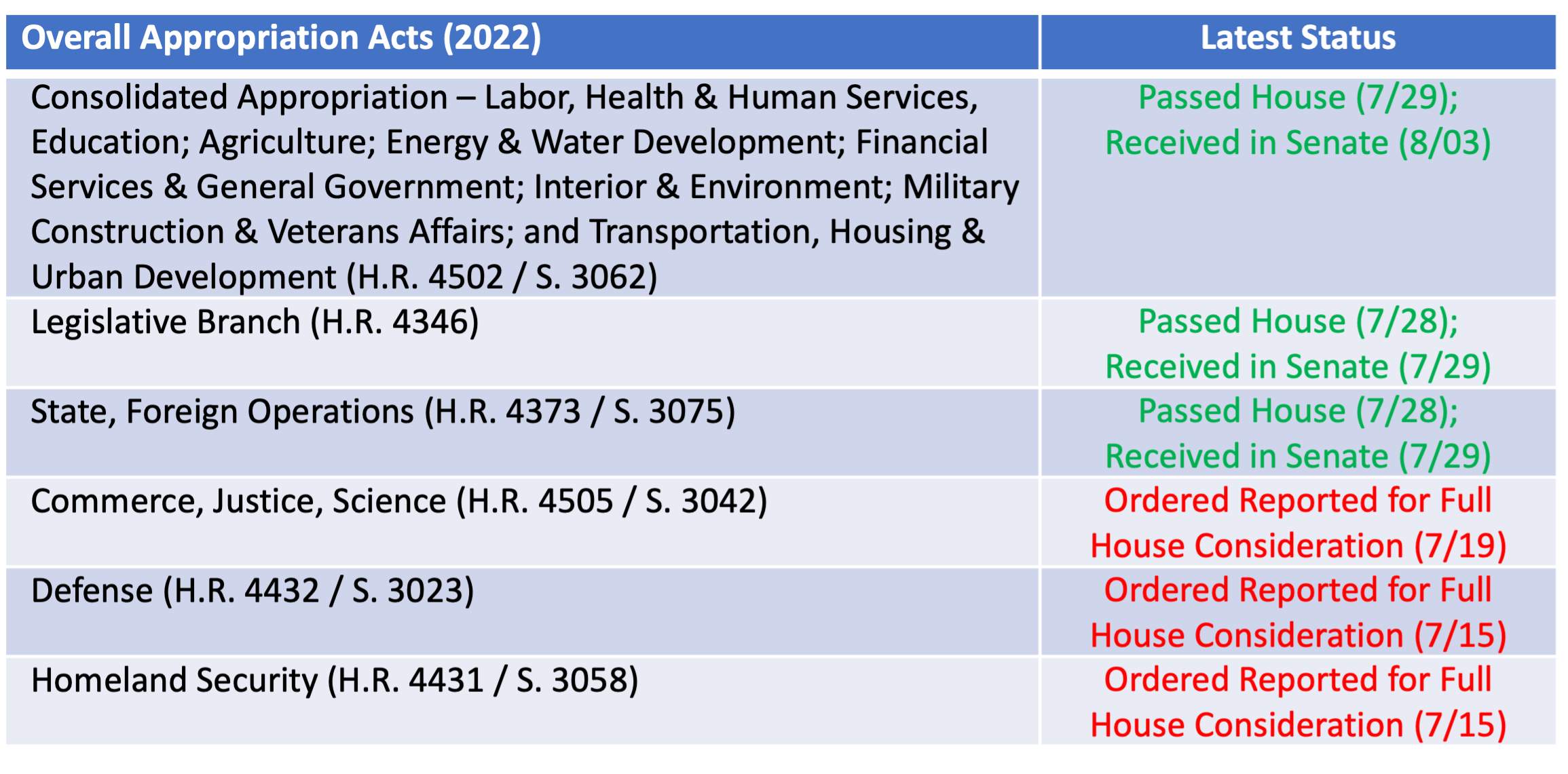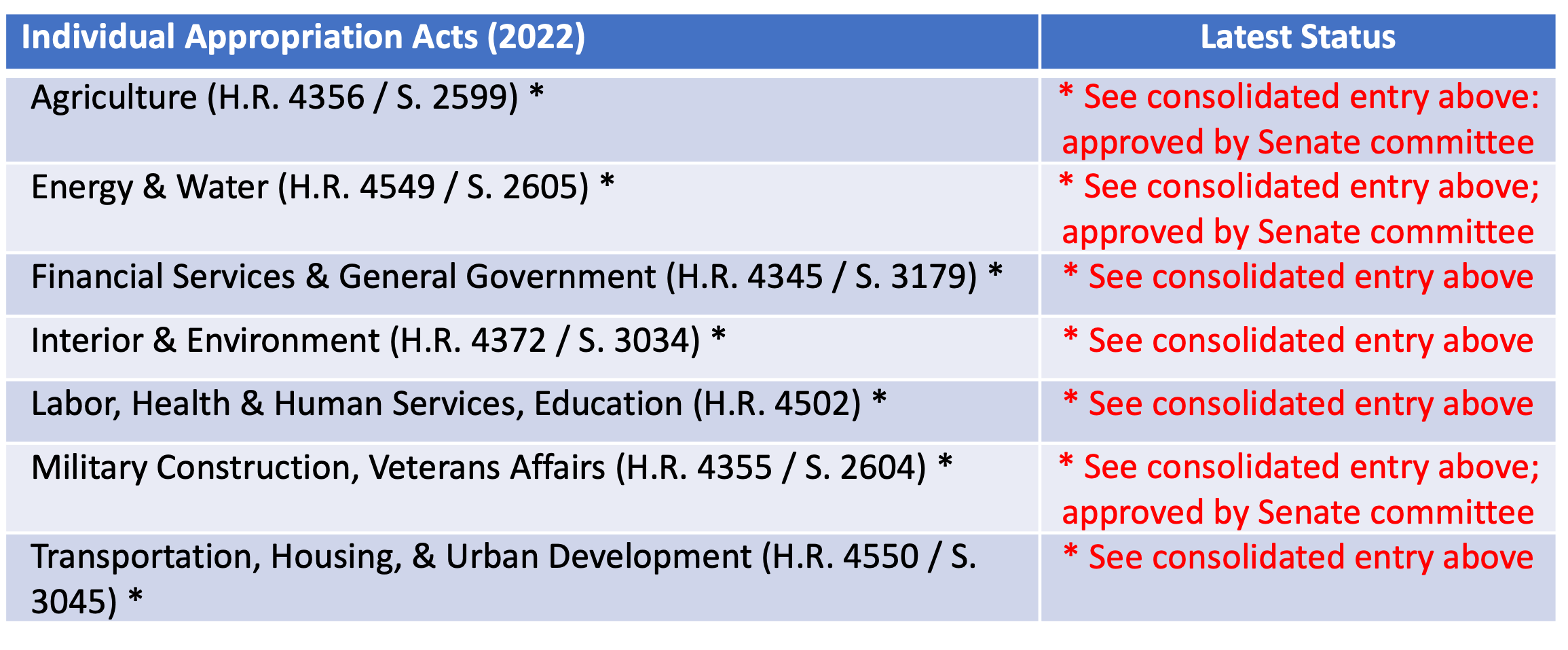 How's the current environment?
Hectic and frenzied! In addition to the FY 2022 appropriation bills, Congress is working several concurrent negotiations around raising the debt ceiling, the Build Back Better (BBB) Act, and the FY 2022 National Defense Authorization Act (NDAA).
Budget Appropriations
Congress passed a clean Continuing Resolution (CR) on September 30th to avert a shutdown, after the House had attempted to tie a CR to a debt limit suspension

Provided continuing FY 2021 funding level appropriations through December 3rd

Last week, Congress prevented another shutdown, when an 11-week stopgap bill (H.R.6119) passed to further keep funding at existing levels through February 18th
To date, the House has passed nine out of the 12 appropriations bills (as of July)

Defense, Homeland Security, and Commerce/Justice are still pending passage

Senate released nine remaining appropriations for committee approval (as of October)

Energy, Military Construction and Veterans Affairs, and Agriculture appropriations bills were previously approved out of Committee (as of August)

Congressional negotiations and resolution on a full FY 2022 spending package are now on the back-burner and will (hopefully) resume when Congress returns in January
Debt Ceiling
In October, Congress raised the statutory debt limit by $480 billion, to allow the Federal government to continue borrowing through early December
Treasury is now warning the U.S. will reach its borrowing limit by December 15th, risking Government default on its debt for the first time in U.S. history (risk of missing interest payments on ~$28 trillion of debt)
Under a debt default, agencies would not be able to carry out their normal operations; as payments to beneficiaries, states, grantees, and contractors could be disrupted
Senate Republicans are indicating they will not vote to hike the U.S. borrowing limit; directing pressure on Senate Democrats to include it as part of their Reconciliation Bill
Alternative legislation is also being considered that would automatically suspend the debt ceiling before a default in conjunction with expedited debt reduction measures
Build Back Better Act (Reconciliation Bill)
Bill is a centerpiece of the Administration's domestic agenda; including Medicare expansion, universal pre-K, and addressing climate change
The House passed the ~$2 trillion legislation on November 19th, formally starting the clock in the Senate, in a push to pass the bill before the Christmas holiday
Democrats are using a budget reconciliation process to bypass a Republican filibuster; however, they do not yet have 50 guaranteed "yes" votes to start debate or pass the bill
Delays are expected due to major changes being applied to the bill, followed by a cost analysis by the Congressional Budget Office, and review by the Senate parliamentarian
National Defense Authorization Act (NDAA)
Approved every year for the past 60 years, the Bill authorizes DoD programs and gives Congress a chance to set priorities, but does not actually disburse any money
Typically both chambers pass a version of the NDAA, then they negotiate a final bill through committee requiring it to pass each chamber again before it can become law
House passed its version of the 2022 NDAA in September, while the Senate is at a stalemate on advancing their version, with a motion to end debate failing in November
Likely Senate may alternatively work out a deal with the House on the final version of the legislation, which would then be passed again by the House and sent to the Senate
Increasingly likely that the bill will not become law until early in January
What's next?
For the next three weeks, primary Congressional focus will be on addressing the critical debt ceiling impasse and completing passage of the 2022 NDAA by early January. Regarding negotiations on the FY 2022 budget appropriations and the BBB Act, we expect the wrangling between the House and the Senate will continue into Q2 FY 2022. In conclusion, we're not anticipating significant legislative action on many (if not all) of the appropriation bills before late January, so we recommend you continue to monitor legislative activity via Congress.Gov for your impacted agencies.