This month, we take a deep dive into the major components of Department of Homeland Security (DHS), including budget, IT investment categories and ratings, and IT investment data at the agency level. Here's a rundown of what you can expect from DHS in FY 2021.
DHS Budget
DHS is the third largest agency in the federal government, in terms of personnel. The appropriations bill that funds DHS is the seventh largest of the 12 annual funding measures developed by the appropriations committees. That is the only appropriations bill that funds a single agency in its entirety.
In FY 2021, there is an overall budget request of $75.8 billion for DHS. This includes $49.8 billion in discretionary funding and an additional $5.1 billion for the Disaster Relief Fund (DRF). Here's a look at FY 2021 percentage of total budget authority by component: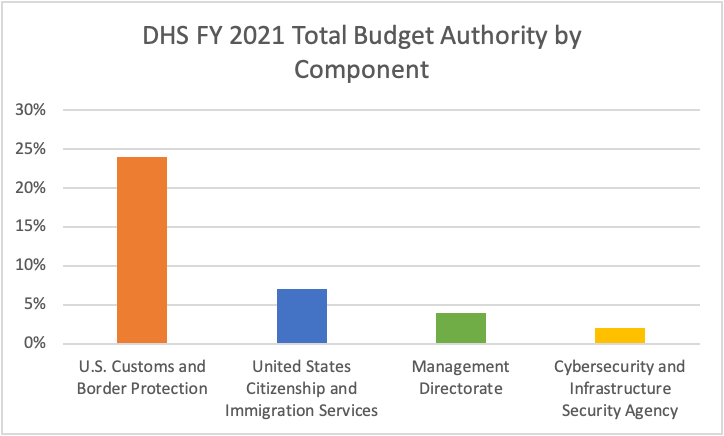 DHS IT Investment Categories and Ratings
Let's take a look at the DHS IT portfolio summary, reported per OMB Capital Planning. The cornerstone of this data and investment management strategy is the Technology Business Management (TBM) value-management framework. This is broken out by IT Cost Pools and IT Towers (e.g. Data Center, Storage, Network, End User, Application, Security, and Platform). Planning for this value-management framework supports CIOs in implementing the authorities defined within the Federal IT Acquisitions Reform Act (FITARA)
There are three key types of IT investments: major IT investments, non-major IT investments, and IT infrastructure investments. The IT investments are primarily divided into the amount of spending in major and non-major investments.
Major IT investment: A major IT investment is an investment that requires special management attention because of its importance to the mission or function of the agency. The amount of spending in major investments is significant because those investments are required to submit business cases, which provide additional transparency into cost, schedule, and performance data related to its spending.
Non-major IT investment: A non-major investment is not required to complete the major IT investment business case but could be upgraded to a major investment if certain criteria are met.
The total for FY 2020 IT spending is $7.3B and is broken out into the three components below: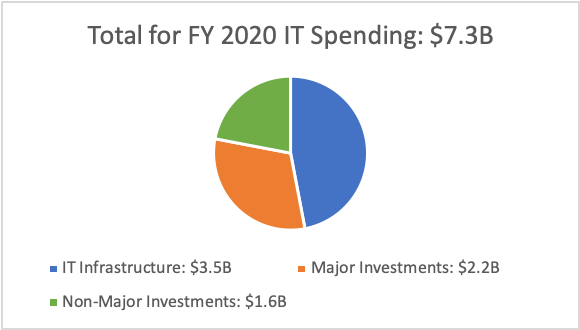 Here are the top components for the total IT spending in FY 2020:
Customs and Border Protection: $1.79B
Citizenship and Immigration Services: $900.3M
Cybersecurity and Infrastructure Security Agency: $849.8M
Management Directorate: $827.9M
Customs and Border Protection (CBP) IT Investment Data
Total IT Spending FY 2020: $1.79B
FY 2020 Development, Modernization, and Enhancement (DME) funding: $188.7M
FY 2020 IT investment areas (total IT spending):

End User: $188.1M; Standard IT Infrastructure
Non-Intrusive Inspection (NII) Systems Program: $180.2M Major IT Investment (Low CIO Risk Rating)
Data Center and Cloud: $163.5M; Standard IT Infrastructure
Network: $122.2M; Standard IT Infrastructure
Automated Targeting System (ATS): $118.3M; Major IT Investment (Medium CIO Risk Rating)
Automated Commercial Environment (ACE): $109.4M; Major IT Investment (Medium CIO Risk Rating)

FY 2020 IT investment areas (Development, Modernization, & Enhancement funding):

Non-Intrusive Inspection (NII) Systems Program: $60.2M; Major IT Investment (Low CIO Risk Rating)
Biometric Entry-Exit: $44.2M; Major IT Investment (High CIO Risk Rating)
Remote Video Surveillance System (RVSS) Upgrade Program: $40.7M; Major IT Investment (Medium CIO Risk Rating)
U.S. Citizenship and Immigration Services (USCIS) IT Investment Data
Total IT Spending FY 2020: $900.3M
FY 2020 Development, Modernization, and Enhancement (DME) funding: $111.8M
FY 2020 IT Investment Areas (total IT spending)

Verification Modernization (VER): $156.5M; Major IT Investment (Medium CIO Risk Rating)
Transformation: $128.6M; Major IT Investment (Medium CIO Risk Rating)
Network SRI: $103.0M; IT Infrastructure

FY 2020 IT investment areas (Development, Modernization, & Enhancement funding):

Transformation: $61.3M; Major IT Investment (Medium CIO Risk Rating)
Fraud Detection and National Security (FDNS): $41.5M; Non-major IT Investment
Cybersecurity and Infrastructure Security Agency (CISA) IT Investment Data
Total IT Spending FY 2020: $849.8M
FY 2020 Development, Modernization, and Enhancement (DME) funding: $303.1M
FY 2020 IT investment areas (total IT spending)

National Cybersecurity Protection System (NCPS): $405.2M; IT Infrastructure (High CIO Risk Rating)
Continuous Diagnostics and Mitigation (CDM): $232.1M; IT Infrastructure (Medium CIO Risk Rating)

FY 2020 IT investment areas (Development, Modernization, & Enhancement funding)

Continuous Diagnostics and Mitigation (CDM): $137.6M; IT Infrastructure (Medium CIO Risk Rating)
National Cybersecurity Protection System (NCPS): $105.8M; IT Infrastructure (High CIO Risk Rating)
Next Generation Network Priority Services (NGN-PS): $52.6M; IT Infrastructure
Management Directorate IT Investment Data
Total IT Spending FY 2020: $827.9M
FY 2020 Development, Modernization, and Enhancement (DME) funding: $148.2M
FY 2020 IT investment areas (total IT spending):

Manage Information Technology: $230.8M; IT Infrastructure
Homeland Advanced Recognition Technology (HART): $176.2M; Major IT Investment (Low CIO Risk Rating)
Financial Systems Modernization: $106.8M; Major IT Investment (High CIO Risk Rating)
Automated Biometric Identification System (IDENT): $93.4M; Major IT Investment (Low CIO Risk Rating)

FY 2020 IT investment areas (Development, Modernization, & Enhancement funding):

Financial Systems Modernization: $89.8M; Major IT Investment (High CIO Risk Rating)
Tactical Communications II: $16.5M; Non-major IT Investment
Homeland Advanced Recognition Technology: $15.5M; Major IT Investment (Low CIO Risk Rating)