The proposal response is broken down into six volumes:
Volume 1 – General
Volume 2 – Responsibility
Volume 3 – Relevant Experience for Primary and Secondary Projects
Volume 4 – Past Performance
Volume 5 – Systems, Certifications, and Clearances
Volume 6 – Cost/Price
Below is a timeline of what you can expect.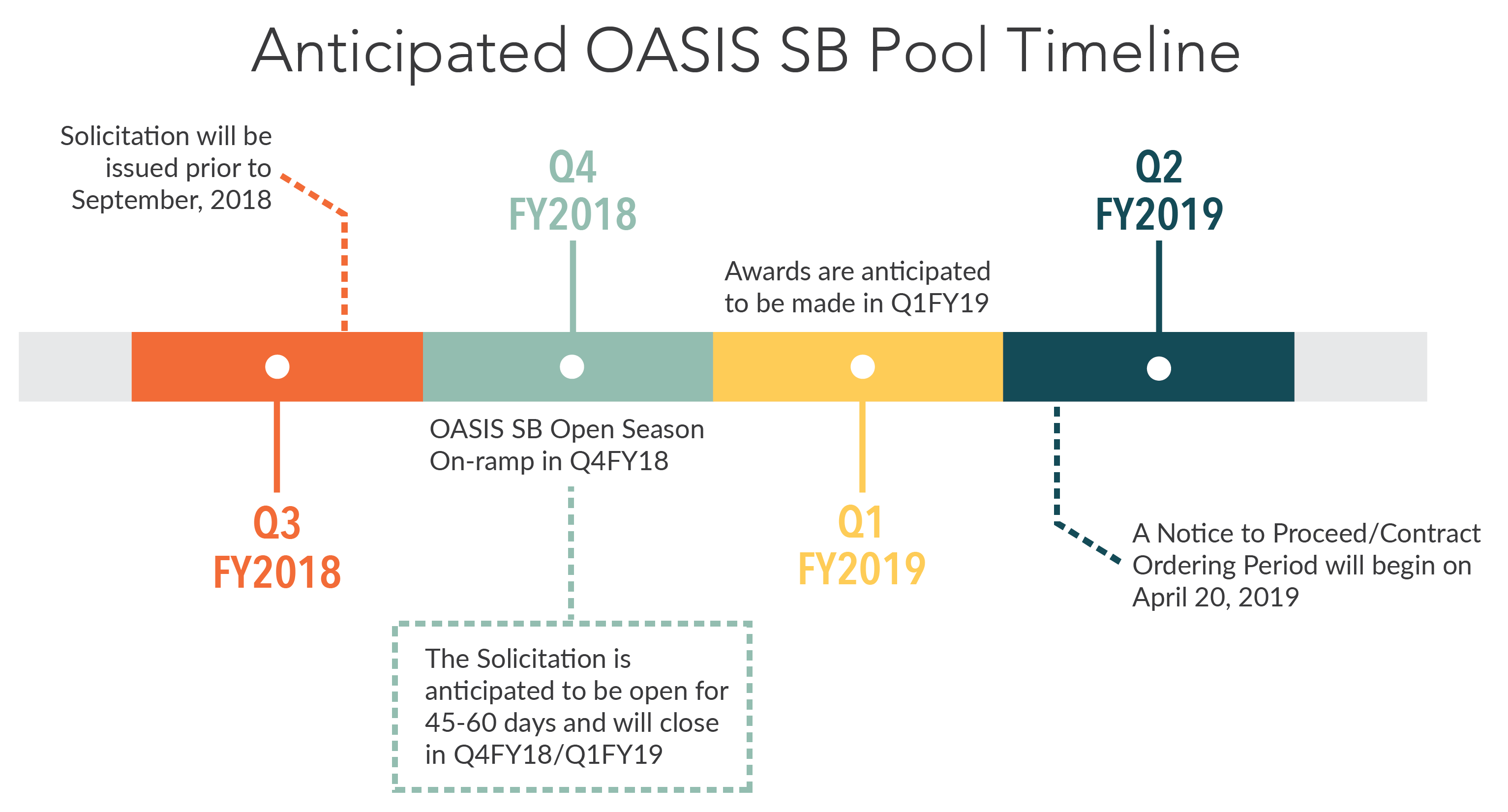 How Can We Help You Get on GSA OASIS?
Initial Scoring Analysis: Conduct a complete opportunity assessment to ensure that you meet the pool qualifications. Validate the scoring worksheet based on the selected contracts and provide an initial estimated score.  Offer guidance for bid/no bid and pursuit strategy based on the assessment.
When? ASAP!
Why? Because there is nothing worse than ramping up a proposal team only to realize that you cannot meet the pool qualification requirements.

Proposal Review: Let us review your proposal to ensure that all of your proposal documentation, project information, and certification information is easy to find and clearly mapped to the solicitation requirements.
When? After your projects have been identified and the self-scoring sheet is complete. We recommend somewhere between Pink and Red Team, but really any time before submission works.
Why? The evaluation team is going to sit down and map all submitted documentation against the requirement. This is a way to ensure that all the information is there and easy to find.

Proposal Management: With a six-volume submission and a maximum of five projects, to say this bid is complex is an understatement. We will work with your team to ensure that each and every element is covered and progressing within the RFP response timeframe.
When? ASAP! GSA has given you everything you need to get started now.
Why? You need a captain. Someone to stay the course and keep tabs on all the moving parts. Fortunately, Red Team has managed and won numerous OASIS and Alliant awards in the past, and we know what it takes to manage a proposal of this size and complexity.

Document Specialist: Ensures compliance and accurate mapping of all contract relevant information as part of the submission response.
When? Once projects have been set the document specialist will begin building an intricate system to map key requirements for final submission.
Why? Mapping and accuracy of content has never been more important. We have seen first hand how difficult it can be to collect, verify, and compile all of the existing documents for OASIS. This is a critical position to ensure all of the necessary documentation is confirmed.
Interested in bidding on GSA OASIS?